WhatsApp is said to be working on a new message moderation feature that will offer admins more control over the WhatsApp group activities.
Once the stable WhatsApp update for Android and iOS is released, this feature will allow group admins to delete the messages sent by participants within the group.
This feature was first spotted by popular WhatsApp updates tracker WABetaInfo.
Meanwhile, the tracker also shared a screenshot of how users will observe a text "This was removed by an admin". Currently, WhatsApp offers its users the option to delete their messages for everyone in the group as well as in the chats. However, with the WhatsApp admin feature getting introduced in the future update, group admins can delete any message/s in the group.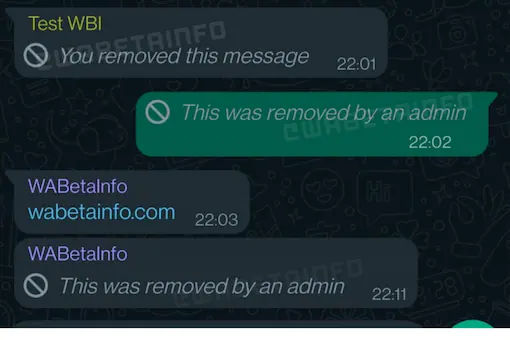 This feature will help minimize the spread of misinformation and inappropriate messages in the group.
Additionally, a few weeks back there was news that the Meta-owned messaging app is working on the sticker creation feature and also the shortcut to quickly forward the stickers within the platform.
Meanwhile, WhatsApp hasn't provided any details on when the new features will be released. But, when the feature update comes, it will surely be a game-changer.
For more Technology News, subscribe to our newsletter and get the latest updates from prominent tech industries across the globe.